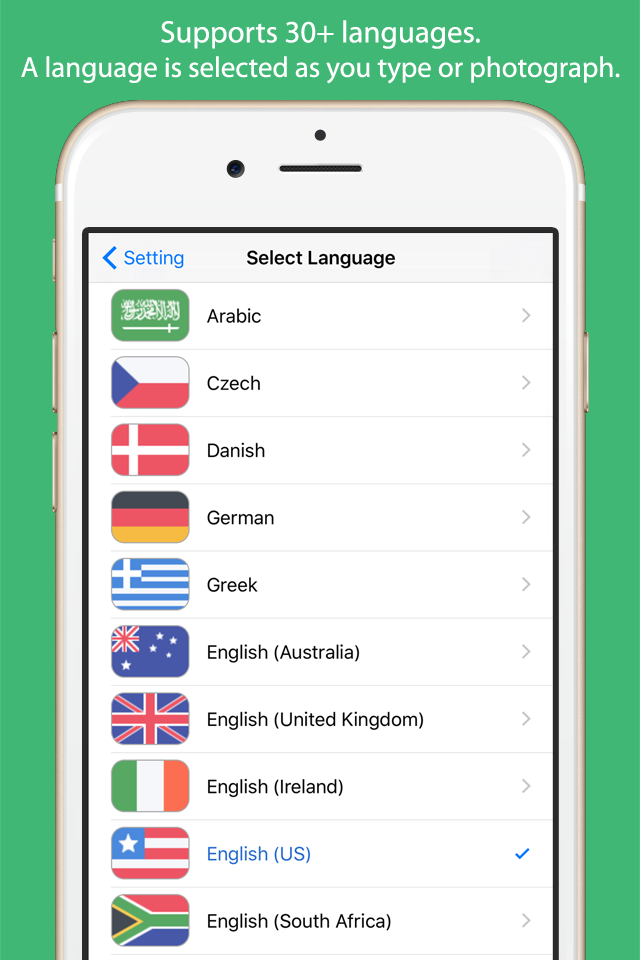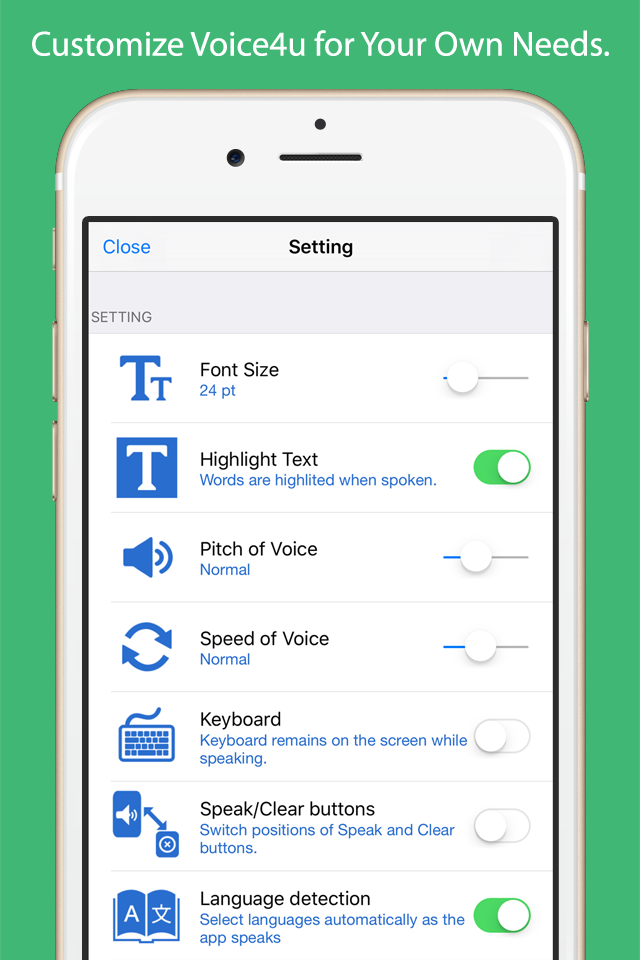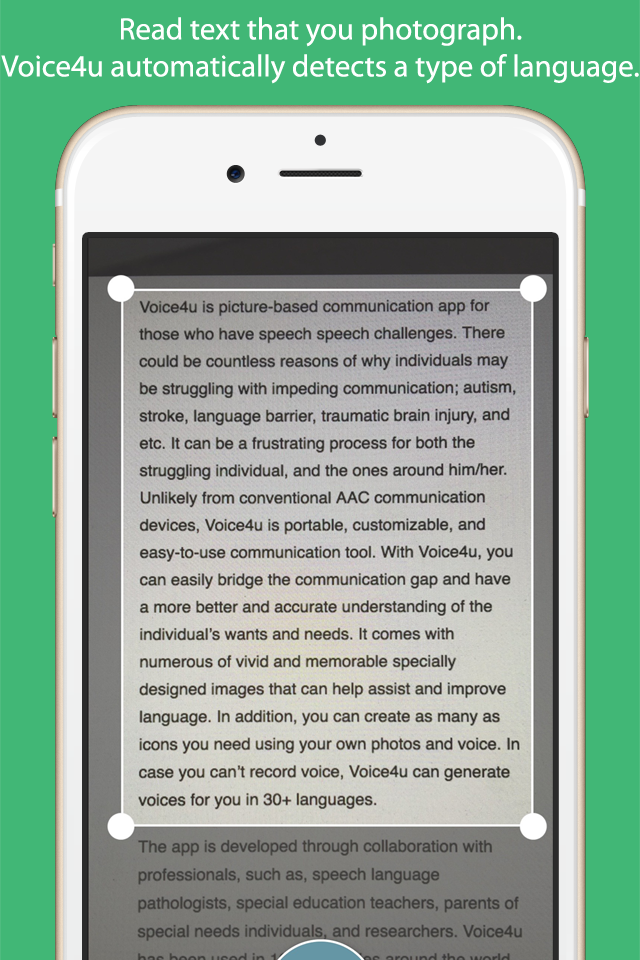 Voice4u TTS (Text-To-Speech) is a text-to-speech app with natural sounding voices. The app can read what you type and photograph with the built-in camera (OCR). This easy-to-use app supports more than 30 languages.
1. Basic Usage
Type sentences that you want to speak after starting up the app. Voice4u will read what you typed when you touch the speak button.
2. Typing & OCR
You can enter the words not only with your keyboard, but with the internal camera. Voice4u TTS can also read handwritten words.
3. Voices
You can choose a voice based on many options: tone, speed, and gender. It supports 30+ languages including English, Spanish, French, Japanese and Chinese.
Here is the list of available languages:
Arabic, Czech, Danish, German, Greek, English (Australia, United Kingdom, Ireland, United States, South Africa), Spanish (Spain, Mexico), Finnish, French (Canada, France), Hindi, Hungarian, Indonesian, Italian, Japanese, Korean, Dutch (Belgium, Netherlands), Norwegian, Polish, Portuguese (Brazil, Portugal), Romanian, Russian, Slovak, Swedish, Thai, Turkish, Chinese (China, Hong Kong, Taiwan).
4. Sharing
Voice4u TTS allows you to share your documents through email and social medias. Also you can print your documents wirelessly.
5. Saving
You can save your words as a document in one touch and browse anytime. All your data is automatically synced and backup in the cloud server. You can use the same data between each of your devices.
See Voice4u TTS in Action
Features
Text-To-Speech
Type anything you want to express in your own language. Voice4u TTS is capable of synthesizing in more than 30 languages with natural sounding voice.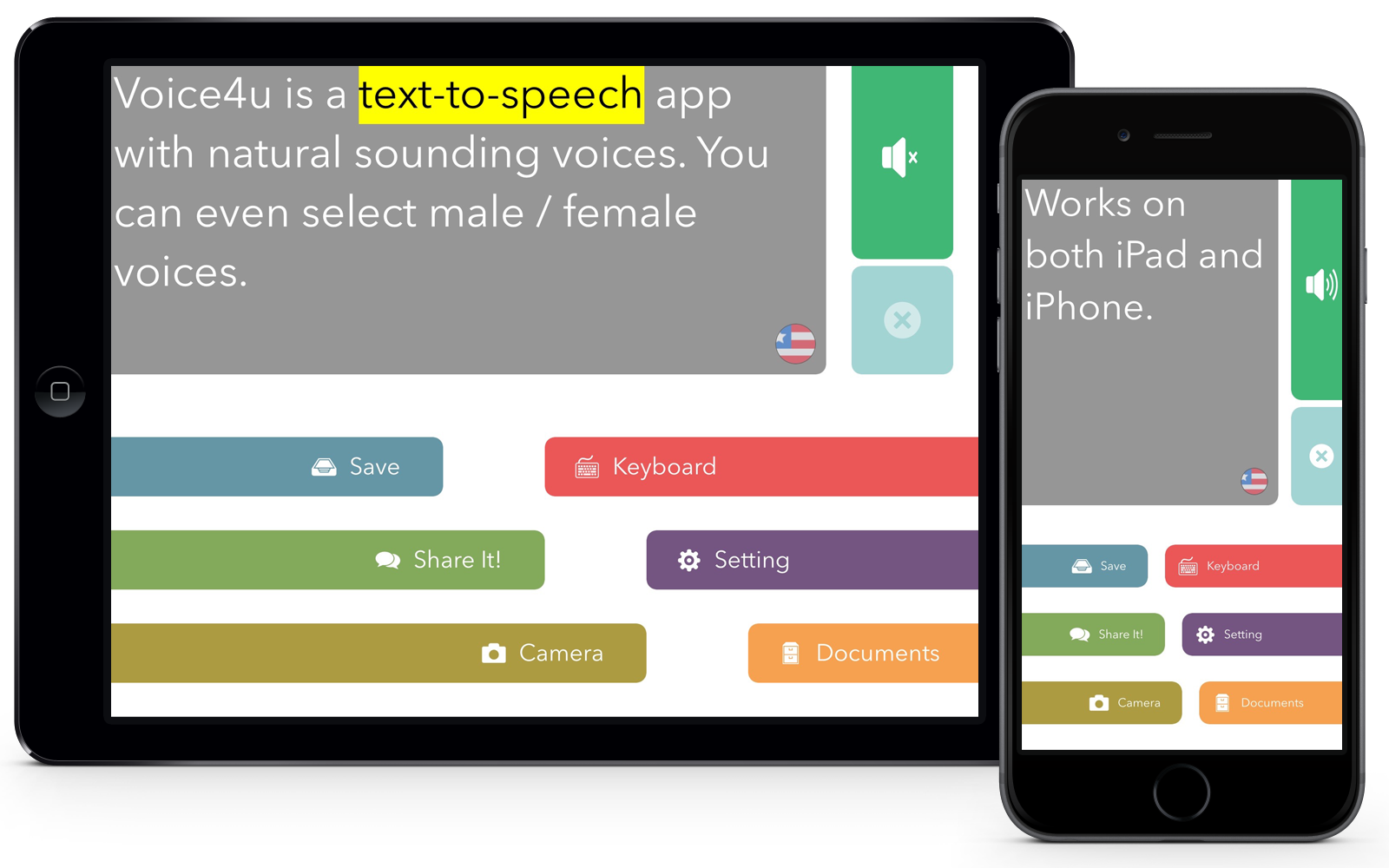 Customize
You can adjust various voice settings to match your preferences such as speed of voice, pitch of voice, gender of voice, and font size of the text.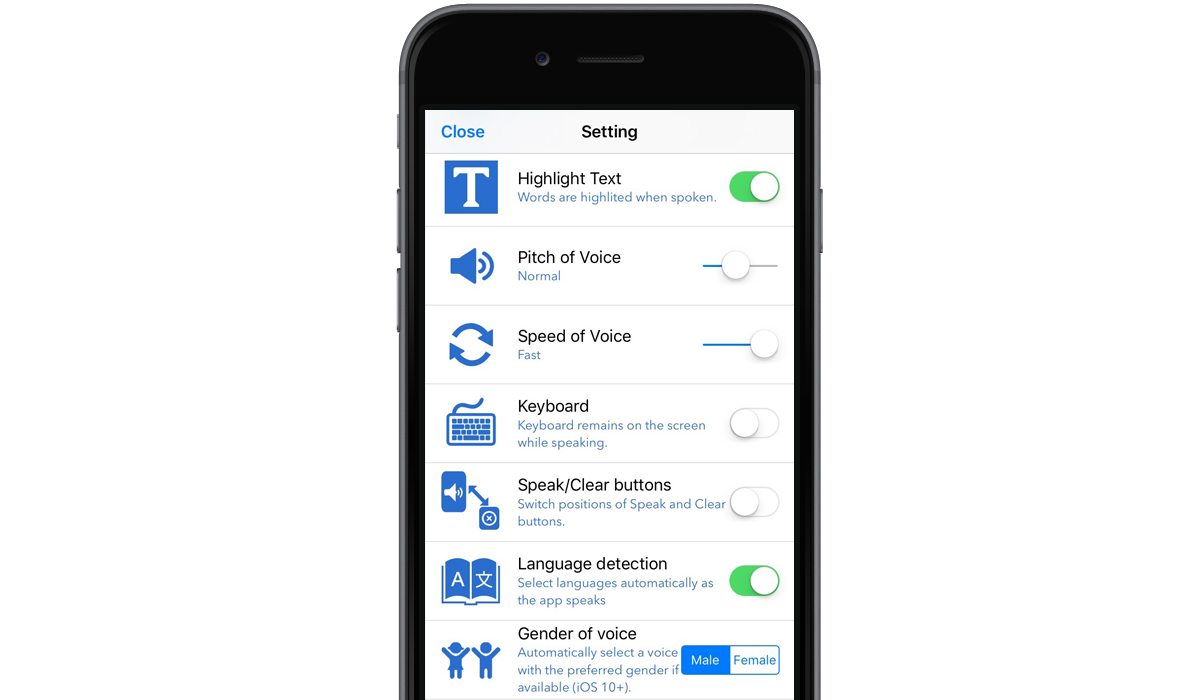 30+ Languages
Voice4u TTS offers 30+ language options. English, Chinese, Japanese, Germany and French have male / female voices, too.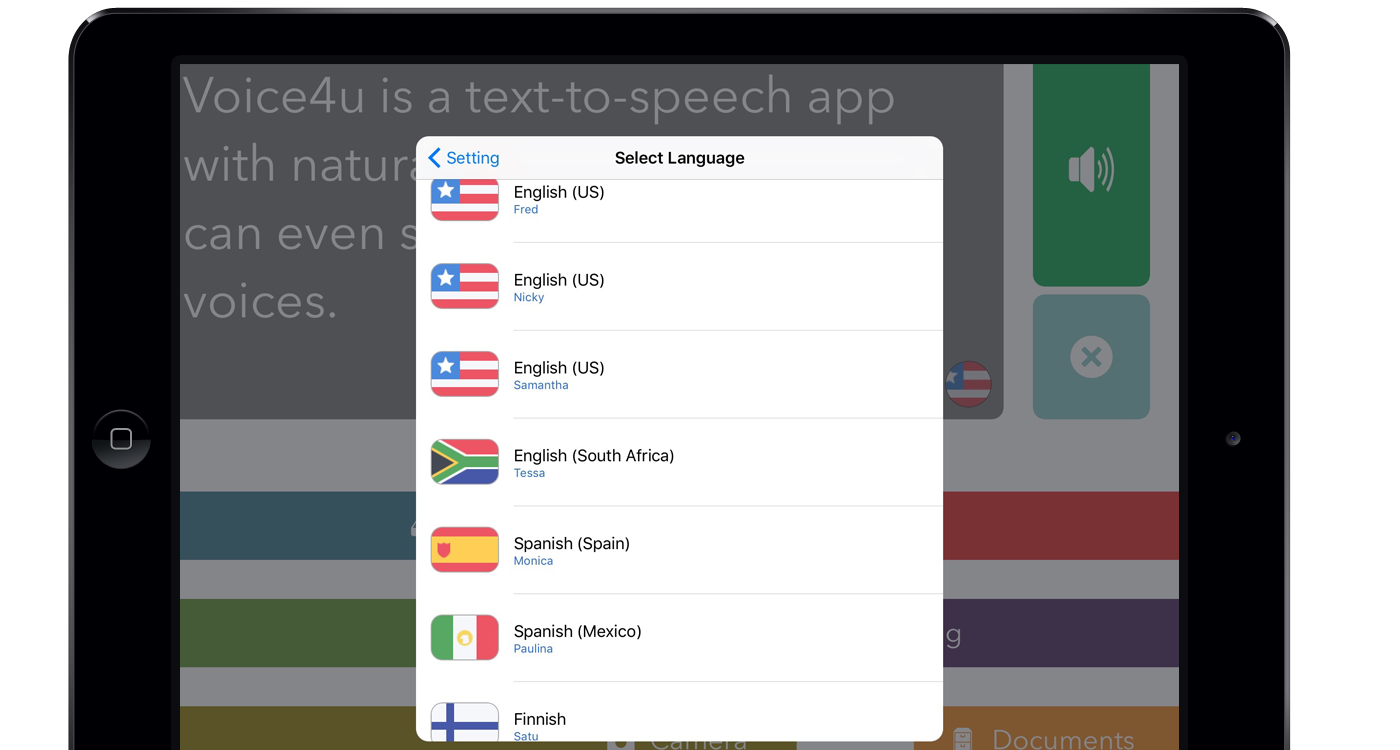 Capture & Speak
The app can speak text that you photograph out loud. It detects a language of text by the state of the art optical character recognition (OCR) algorithm.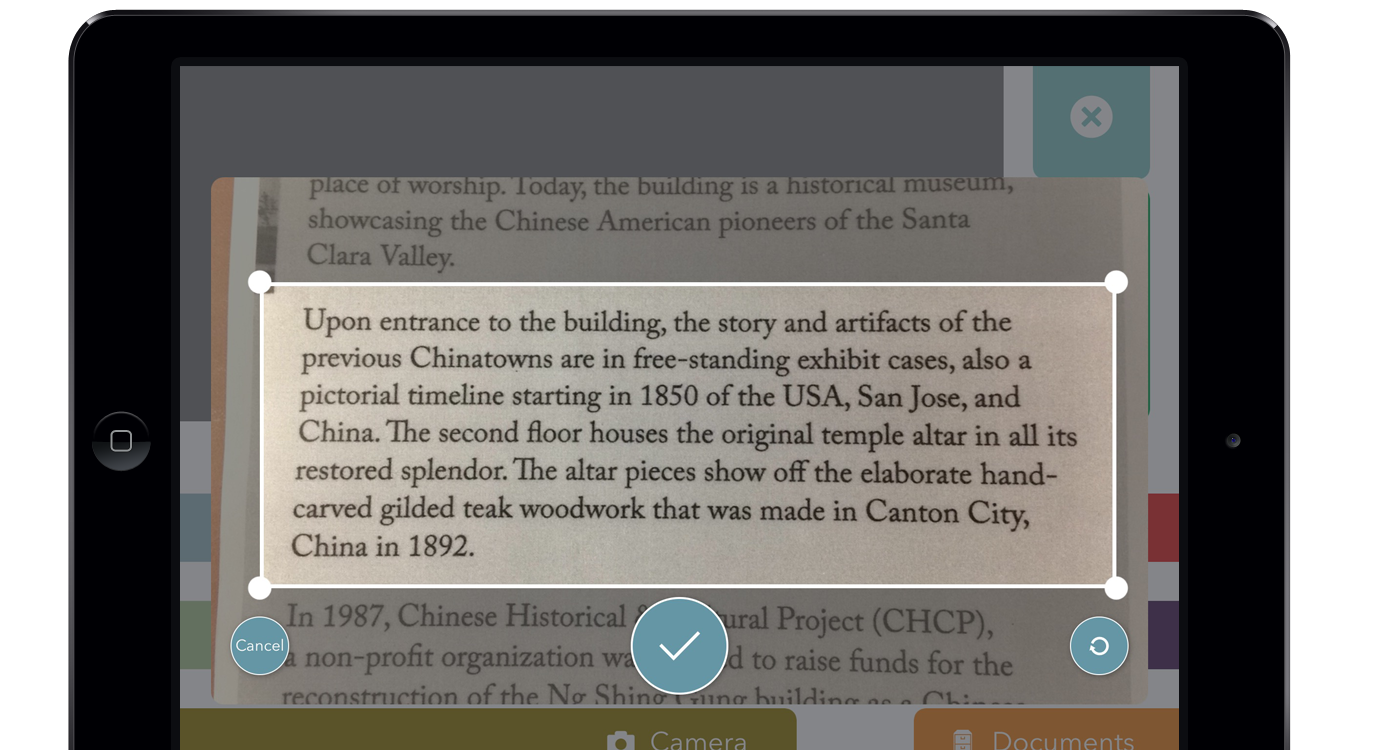 Share & Print
Your documents can be easily shared via email. Your friends can easily import your document. It can also post your Facebook and Twitter status.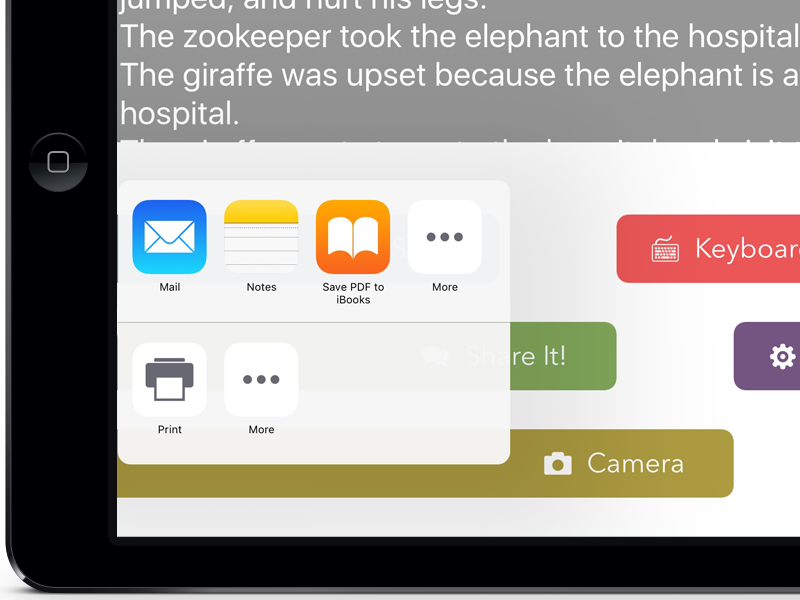 Save & Organize
You can save what you type and photograph as a document on your devices and cloud. The app organizes your documents by name, date and location.
Sync & Backup
Your documents and user settings are automatically backed up and synced across all of your devices. Even if you switch to a new device, you can keep your data exactly the same.
Unlimited Capture & Speak
You can use the Capture & Speak as many as you want for the Pro version. The app is able to read in 30+ languages, not just English!
Download
For iPhone, iPad, iPod touch


For Android phone and tablet


Educational Discount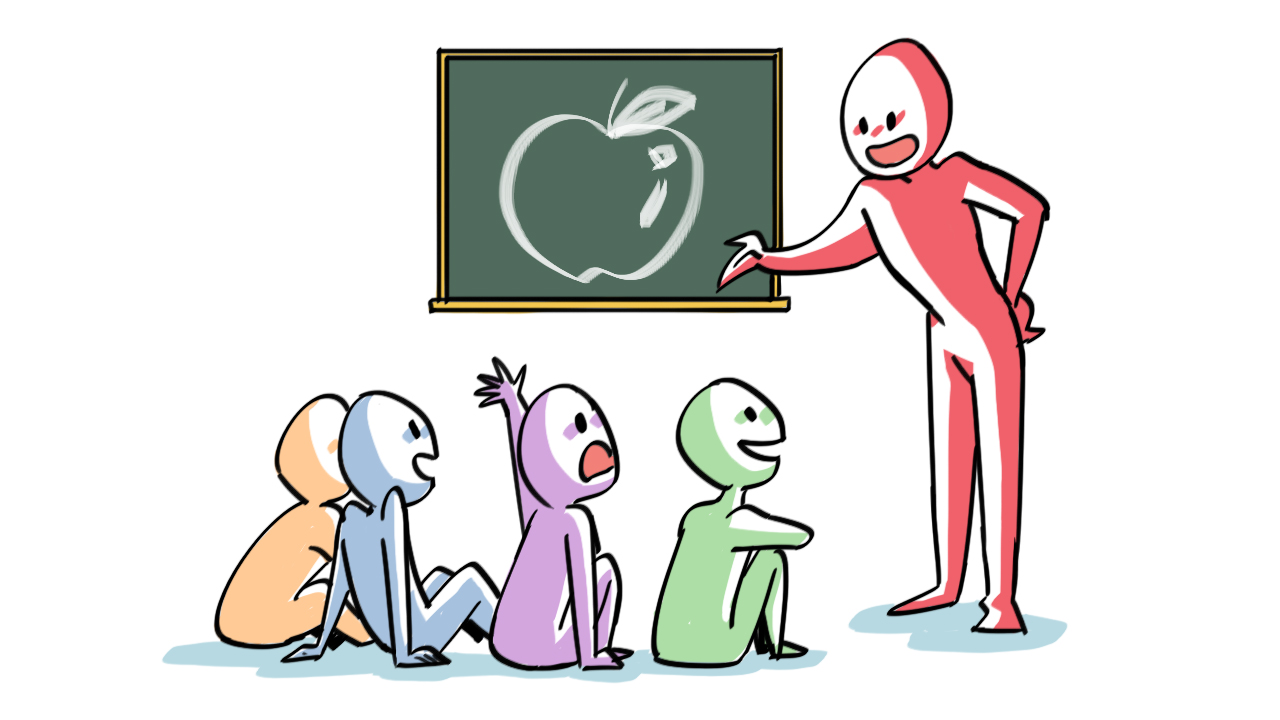 You may qualify for 50% discount of the original price if you purchase 20 units or more through Apple's Volume Purchase Program (VPP) for educational institutions.
Our Story
Voice4u was created to solve an unmet need for people with autism and other speech disabilities. The original idea was from love of a mother, who just wanted to communicate with her kid, just like other mothers do. Voice4u is now supporting people like her and their children in 100+ countries.
Reviews
Want to know what our customers think about Voice4u? How they use Voice4u? How much Voice4u changed their lives? Here are a selection of our customers introducing their success using Voice4u. Do you have a success story to share, too? Please get in touch with us! Below are just a handful of the great things our customers have said about us and using the Voice4u.