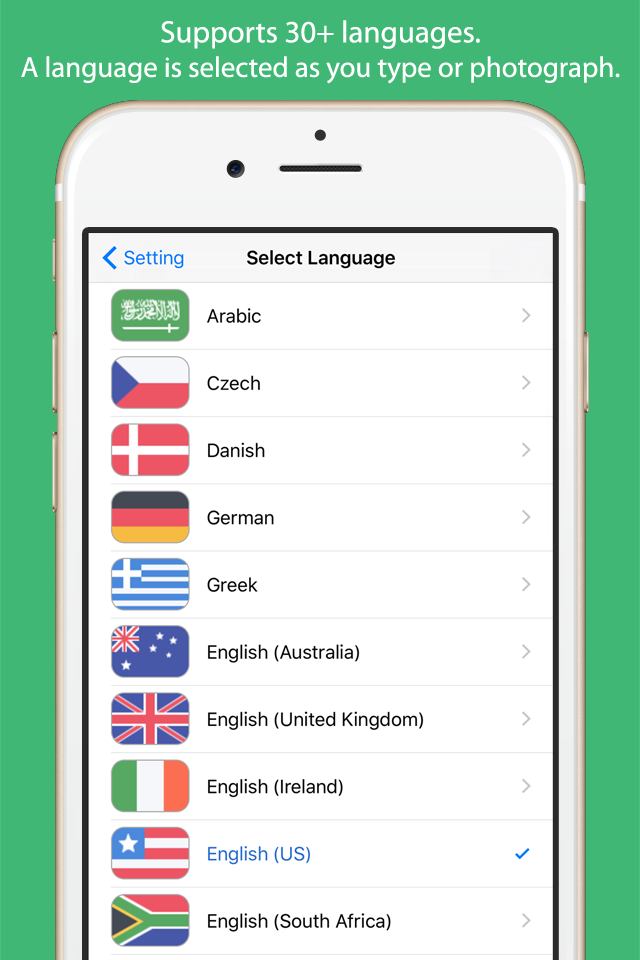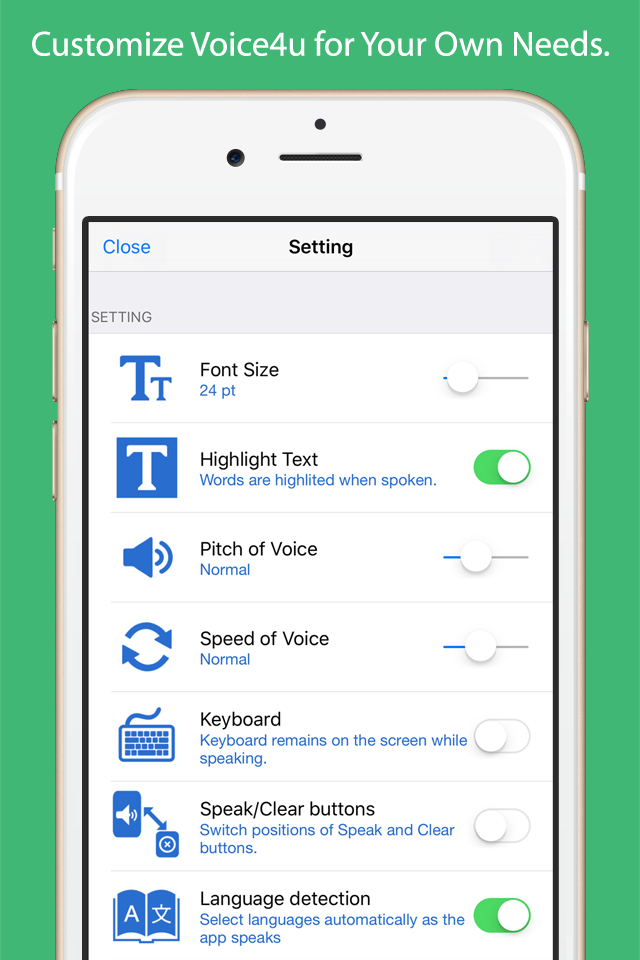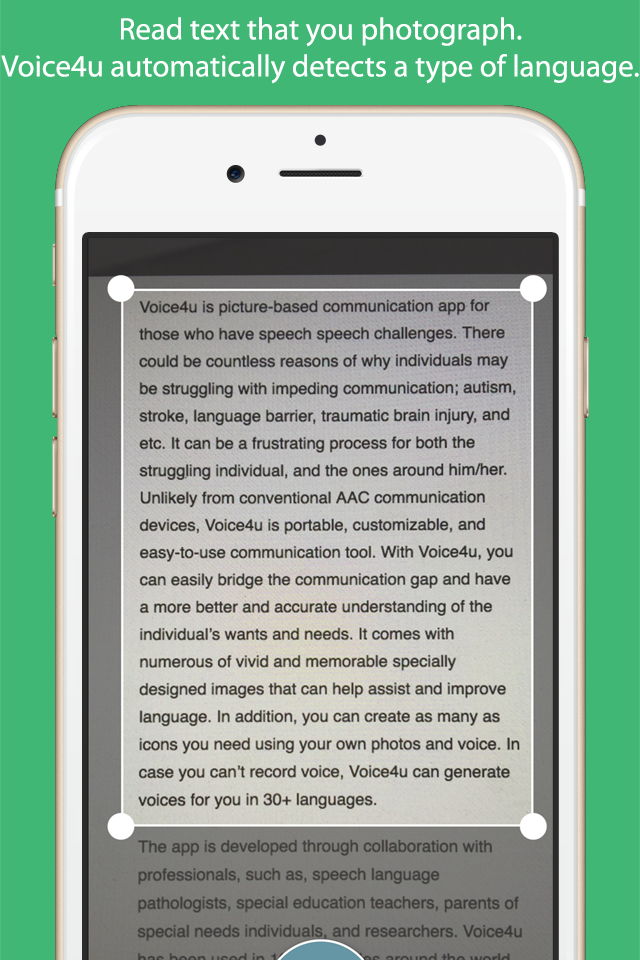 Voice4u TTS (Text-To-Speech) is a text-to-speech app with natural sounding voices. The app can read what you type and photograph with the built-in camera (OCR). This easy-to-use app supports more than 30 languages including English, French, German, Spanish, Russian, Chinese and Japanese. If you are looking for a non-English Augmentative Alternative Communication (AAC), Voice4u TTS is a very good option for you. The Premium plan provides extended features, such as saving, sharing, printing documents and backup your data.
1. Basic Usage
Type sentences that you want to speak after starting up the app. Voice4u will read what you typed when you touch the speak button.
2. Entering
You can enter the words not only with your keyboard, but with the internal camera. Voice4u TTS can also read handwritten words.
3. Voices
You can choose a voice based on many options: tone, speed, and gender.
Voice4u TTS supports 30+ languages besides English, Japanese and Chinese.
4. Sharing
Voice4u TTS allows you to share your documents through email and SNS like Facebook and Twitter. Also you can print your documents wirelessly.
5. Saving
You can save your words as a document in one touch and browse anytime. All your data is automatically synced and backup in the cloud server. You can use the same data between each of your devices.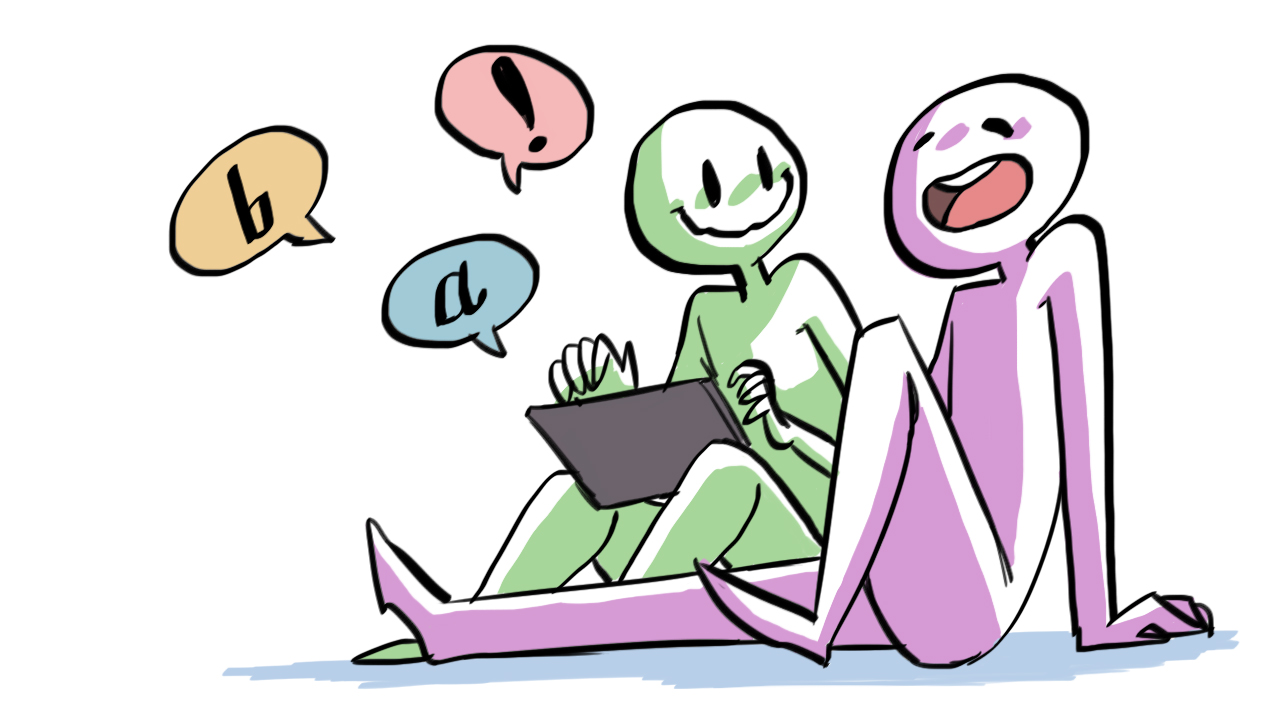 Features
Text-To-Speech
Type anything you want to express in your own language. Voice4u TTS is capable of synthesizing in more than 50 languages with natural sounding voice.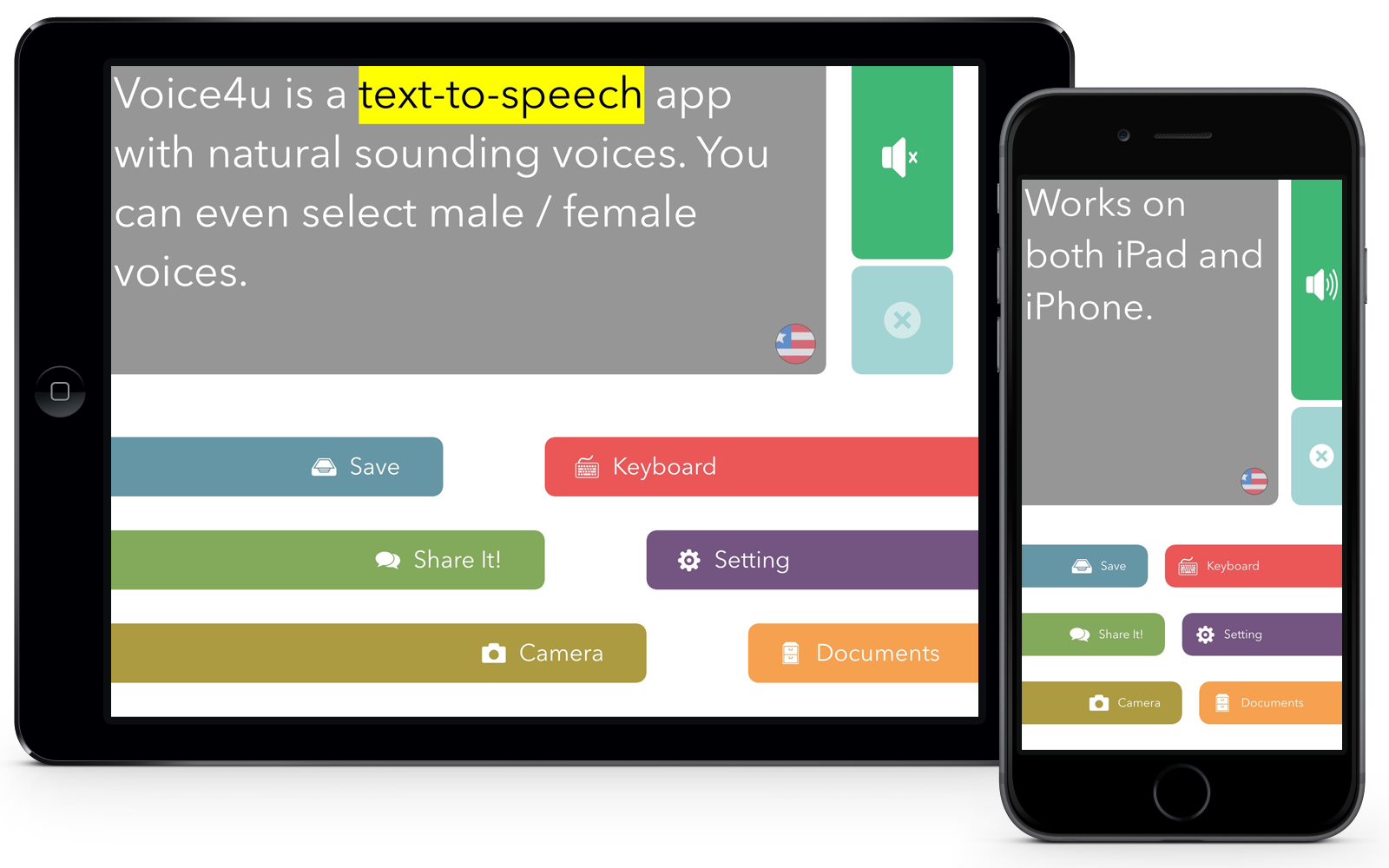 Customize
You can adjust various voice settings to match your preferences. You can change speed of voice, pitch of voice, gender of voice, font size of the text and the type of language to be spoken.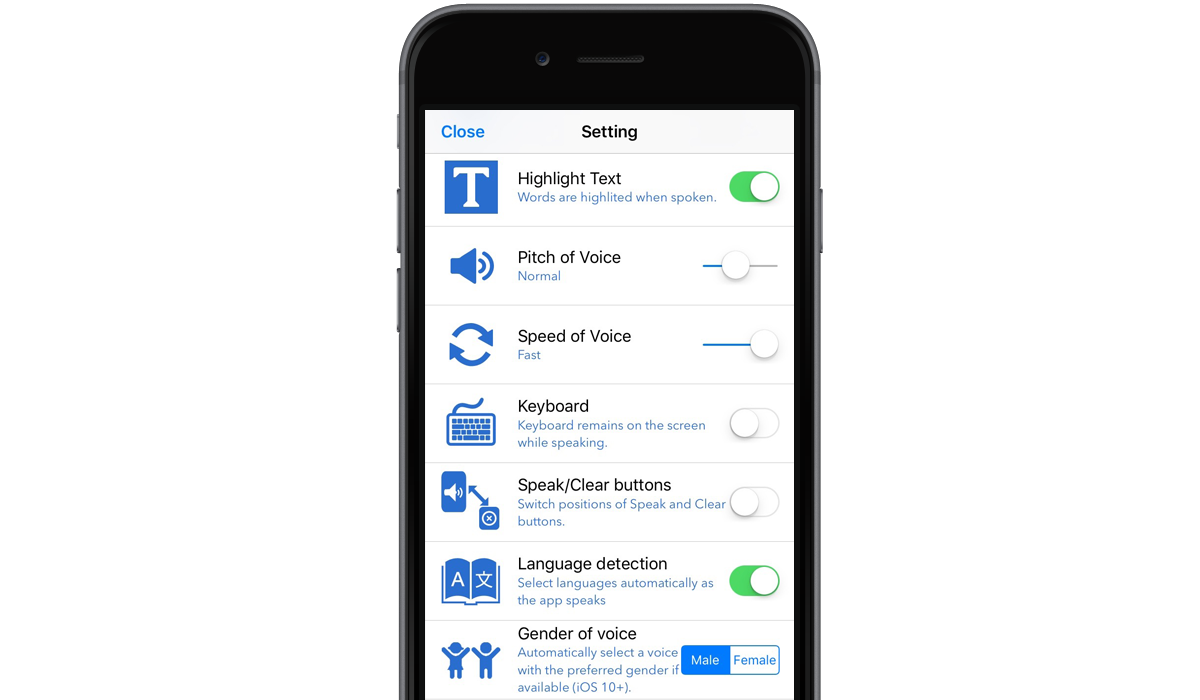 30+ Languages
Voice4u TTS offers 30+ language options. English, Chinese, Japanese, Germany and French have male / female voices, too.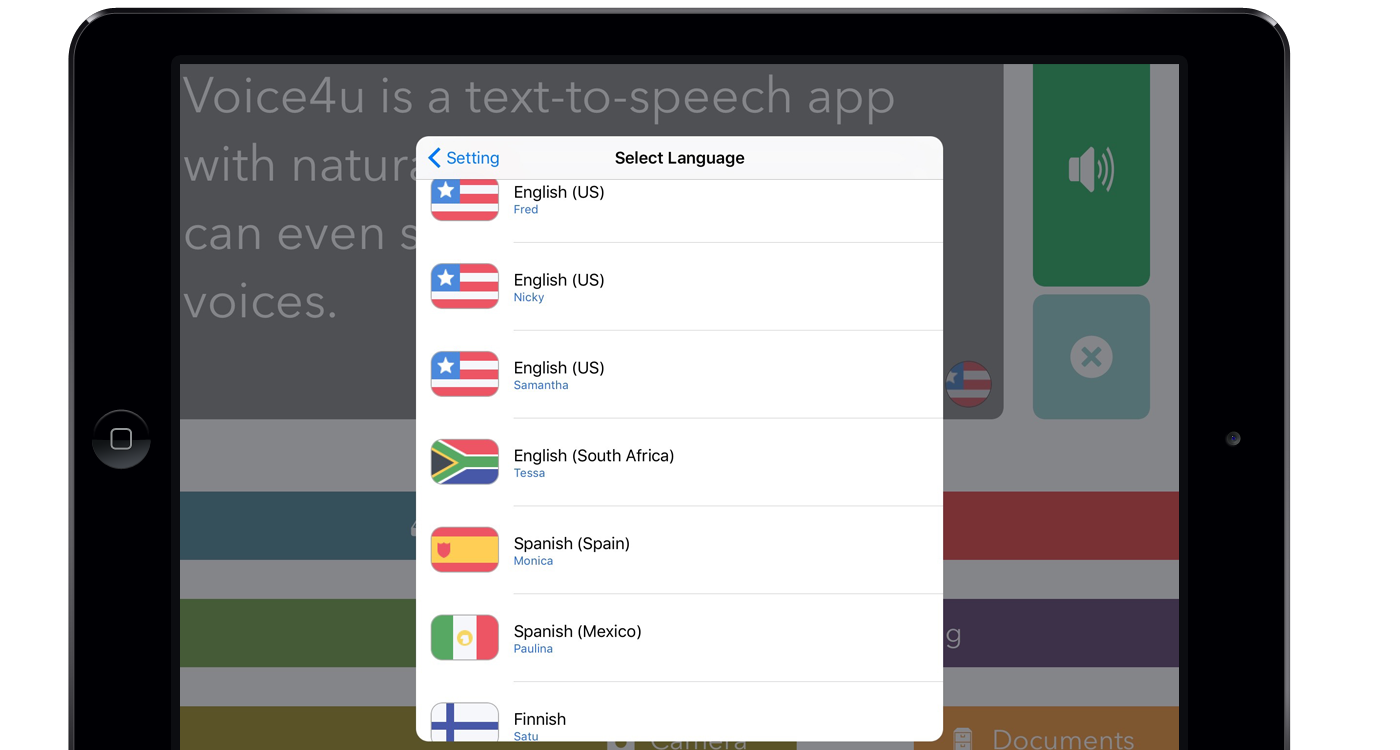 Capture & Speak
The app can speak text that you photograph out loud. It detects a language of text by the state of the art optical character recognition (OCR) algorithm.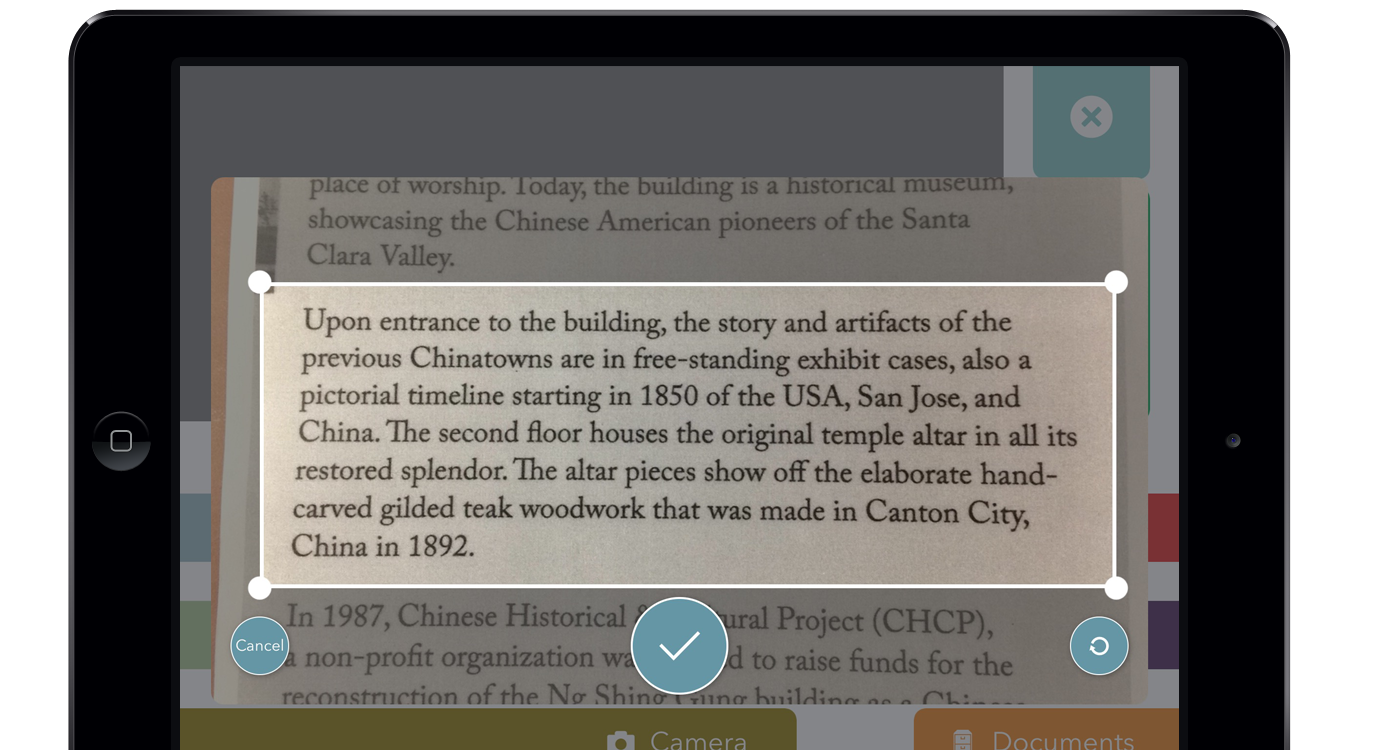 Share & Print
Your documents can be easily shared via email. Your friends can easily import your document. It can also post your Facebook and Twitter status.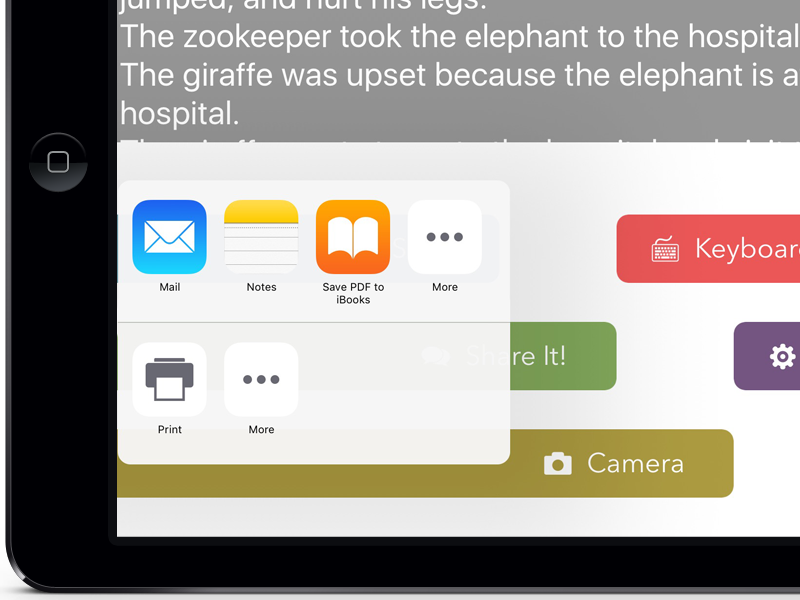 Premium Features
Save & Organize
You can save what you type and photograph as a document on your devices and cloud. The app organizes your documents by name, date and location.
Sync & Backup
Your documents and user settings are automatically backed up and synced across all of your devices. Even if you switch to a new device, you can keep your data exactly the same.
Unlimited Capture & Speak
You can use the Capture & Speak as many as you want. The app is able to read in 30+ languages, not just English!
Get started. Download Now
Voice4u TTS is available through iTunes Store. Tap the download button on your iPad, or search for "voice4u tts" in the App Store app.
Visit here for more detailed pricing information.
Online Tutorials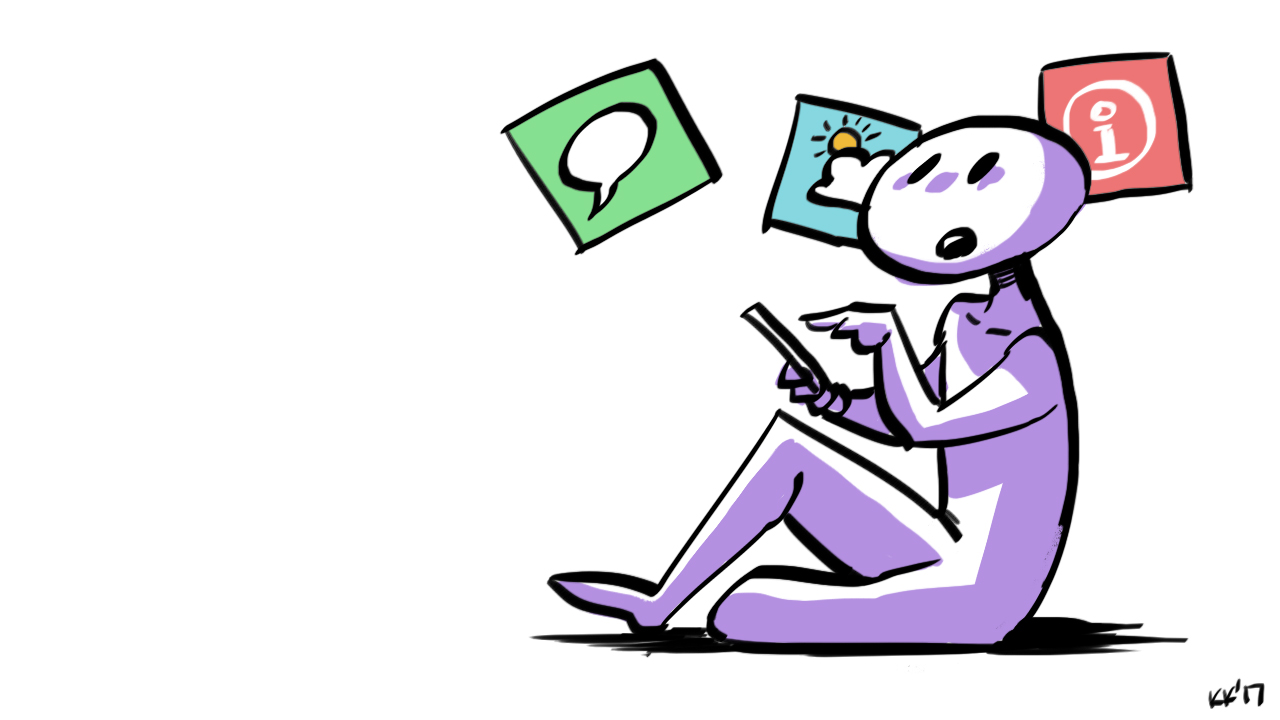 Add as many icons as you want with your own pictures and voice! Check out visual online manuals showing how to do it. Voice4u is a very simple application, but provides a numerous creative usages.
Beginners' Guide

Are you new to apps and smartphones? Wants to know how to download apps and receive new updates? Here is a quick guide to walk you through the app-smartphone paradigm.
Common Questions
What devices are compatible with Voice4u TTS?
The current version of Voice4u TTS works on iPad, iPhone and iPod touch loaded with iOS 7.
What languages is Voice4u TTS able to speak?
Here are the list of languages available:
Arabic, Czech, Danish, German, Greek, English (Australia, United Kingdom, Ireland, United States, South Africa), Spanish (Spain, Mexico), Finnish, French (Canada, France), Hindi, Hungarian, Indonesian, Italian, Japanese, Korean, Dutch (Belgium, Netherlands), Norwegian, Polish, Portuguese (Brazil, Portugal), Romanian, Russian, Slovak, Swedish, Thai, Turkish, Chinese (China, Hong Kong, Taiwan).
Does Voice4u TTS works on iPhone and iPod touch?
The current version (1.0) does not support yet. It only works on iPad, iPad mini and iPad air. We will be releasing a new update soon, which supports iPhone and iPod touch as an universal application.
How do I change the voice of language? Can I switch the gender of the voice?
You can adjust various voice parameters in the application setting, such as pitch, speed, and language. The following languages have both male and female voices: English (US), English (UK), English (Australia), German, Chinese, French and Japanese.
How do I purchase the Premium plan?
The Premium plan is offered through the in-app purchase. Navigate to Setting > Premium Plan and select a subscription period from 3 months, 6 months or 12 months.
How do I cancel the Premium plan and get refund?
Once you subscribe the Premium plan, it cannot be cancelled. However, you can request refunds from Apple with a legitimate reason. Apple can manage refunds, not the developers including Spectrum Visions Global.
Do I need to register to use the Premium features?
No, it's not necessary, but we strongly suggest to do so. By registering, you will be able to use the Premium features more than one devices you own and you can also enable the Premium features in case Voice4u TTS app is deleted from your device.
Can Voice4u TTS translate the text typed?
Currently, it can't. It is one of our first priorities, and we are seriously working on it.
I forgot my password.
Navigate to Setting > Premium Plan > Login > I Forgot Password. A verification email will be sent to your email address. Follow the instruction in the email.
Can I use the Premium features more than one device I own?
Yes, absolutely. Please create your Voice4u account (email and password) after purchasing the Premium plan.
Our Story
Voice4u was created to solve an unmet need for people with autism and other speech disabilities. The original idea was from love of a mother, who just wanted to communicate with her kid, just like other mothers do. Voice4u is now supporting people like her and their children in 100+ countries.
Reviews
Want to know what our customers think about Voice4u? How they use Voice4u? How much Voice4u changed their lives? Here are a selection of our customers introducing their success using Voice4u. Do you have a success story to share, too? Please get in touch with us! Below are just a handful of the great things our customers have said about us and using the Voice4u.